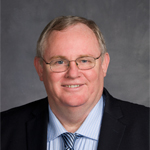 Senior Vice President, Sales and Business Development / General Manager Distilled Spirits

Chris earned a BSc in Brewing and Biological Sciences at Heriot-Watt University in 1981. He started his career at Traquair House Ales (a small brewery attached to the oldest inhabited house in Scotland – using equipment dating back to the 1700's). Chris then spent 3 years in micro-brewing both running and setting up in-house breweries.
He then transferred to Hall and Woodhouse, a brewery in Dorset, and spent time in each production area including the high speed packaging line. During this time, Chris completed the Institute of Brewing Master Brewer Diploma. He then travelled overseas to Karachi, Pakistan to help set up and build a small brewery where he also ran a potable spirits blending unit. On returning to the United Kingdom, he joined William Grant & Sons in Girvan, the third largest grain whisky plant in Scotland. After 5 years of running the process area he left for America to join Alltech, working out of Brookings SD to cover the growing fuel alcohol industry. Chris joined Lallemand Ethanol Technology following Lallemand's acquisition of the Alltech Alcohol division and worked as a Technical Sales Representative.
Chris became the North American Sales Manager in 2005, and in 2007 took on the responsibility of Global Sales Manager. Chris came into his current role with LBDS through the acquisition of North American BioProducts Corp. In this role, Chris will be focused on International (outside of North America) Biofuels and a global focus on Distilled Spirits. Over the last seven years, Chris has taken on a significant number of speaking roles both in the USA and internationally to help educate the industry, along with authoring scientific articles and three chapters in the 5th edition of "The Alcohol Textbook."
In 2021, Chris was promoted to Senior Vice President Sales and Business Development & GM Distilled Spirits. This clarifies his responsibility for all aspects of our growing distilling business, for which he is responsible for the P&L.