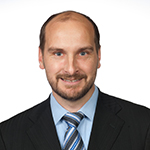 Vice President, R&D and Quality Assurance
Frédéric D'Aoust received his M.Sc. and Ph.D degrees in Microbiology from McGill University. He was awarded a Doctoral Research Scholarship from Le Fonds Pour La Formation De Chercheurs Et L'Aide A La Recherche. He was also the recipient of the Walter M. Stewart Postgraduate Scholarship.
Following his doctoral dissertation, Frédéric spent the greater part of the following two and a half years pursuing a post-doctoral fellowship at Concordia University involving metabolic engineering and evolution of new Saccharomyces cerevisiae strains for increased ethanol production from lignocellulosic substrates. His research focused on metabolic engineering of pentose fermentation pathways and increased resistance to inhibitors found in spent sulfite liquor, a waste by-product of the pulp and paper industry.
Frederic joined Lallemand in 2008 as a Research Scientist to lead Lallemand Ethanol Technology's research efforts in lignocellulosic ethanol production. He has now been appointed as VP R&D and Quality Assurance. Frederic is responsible for all of the R&D aspects of this division as well as the quality assurance of all LBDS commercial products.
He has over 20 years of cumulative experience and training in microbiology and molecular biology that includes work as a microbiology consultant for such companies as Kronos and Bios Agriculture.