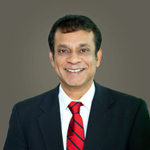 Vice President of Technology
Sanjoy Ganguly received his Bachelor of Science degree in chemical engineering from the University of Bombay, India in 1987 with specialization in intermediates and dyestuff. He obtained his PhD in organometallics from Tulane University, New Orleans in 1993. His doctoral work was focused on building organic ligands and metal complexes for various organic transformations mimicking enzymes as catalysts.
He joined Sun Chemical Corporation soon after graduation as a research scientist. While at Sun Chemical, he completed his MBA from the University of Cincinnati in the year 2000. He joined the Specialty Business Unit of Sun Chemical in 2001 as Cosmetic Group Leader. He was promoted to the position of Industry Manager, Cosmetic Americas in 2003 with marketing, sales and technical responsibilities for the Americas and was the global product champion for inorganic and organic pigments for cosmetics.
He joined NABC in 2008 as the Vice President of Technology. In this role he is responsible for leading teams for research and development; product innovation, design and delivery; novel transformations and fermentation processing; global technical assistance, collaborations and technology transfers; quality assurance and regulatory affairs. As a LBDS board member he is active in various industry organizations and in leading company and biofuel industry causes with the government and nonprofit agencies. He has numerous publications and patents in fermentation processing, catalysis, dispersions and in areas of graphic arts and cosmetics.
Sanjoy is active in various non-profit organizations in the United States and other offshore charitable organizations for child health and development.